Volodymir Podorvanov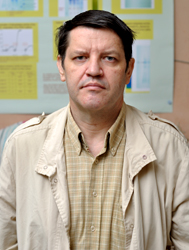 Born August 21, 1960 in the city Ilovaysk Donetsk region. In 1979-1984 studied at the Kiev State Pedagogical Institute named M. Gorky a natural faculty, after which the teacher qualification in the specialty "Biology and Chemistry". In 1993-1997 host-graduate course on the job and in 2009 defended his thesis on "The role of buffer immobilized and mobile systems in lightdepended binding protons tylakoyids membranes of chloroplasts" and received the scientific degree of Psd biological sciences, specialty "03.00.04 – biochemistry".
Works in the Institute since 1987:
1987-2001 – junior researcher,
2001-2011 – researcher and
2011 – senior researcher.
Research interests: biochemistry and plant physiology, theoretical and practical aspects of bioenergy photosynthesis.
E-mail: membranа@ukr.net