Victoriia Mokrosnop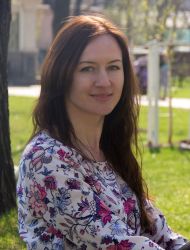 In 2010 she graduated from Taras Shevchenko National University of Kyiv. She specializes in Genetics and Molecular Biology with a qualification in "Genetics. Biology teacher". From 2011 to 2014 she studied at the graduate school of the Department of Membranology and Phytochemistry, M.G. Kholodny Institute of botany, NAS of Ukraine. From 2014 to 2017 she worked as a leading engineer. In 2017 she received a degree Candidate of Biological Sciences on specialty "03.00.12 - Plant Physiology". Dissertation topic: "Effect of ethanol on Euglena gracilis cells under conditions of mixotrophic cultivation". Since 2018, she has held the position of junior research fellow. From 2019 to the present time as a researcher.
Main publications:
Мокросноп В.М. Вплив інтенсивності освітлення на ріст міксотрофних культур Euglena gracilis та накопичення фотосинтетичних пігментів у їх клітинах //  Физиология растений и генетика. – 2019. - № 1. – ст. 76-83.
Mokrosnop V.M. Production of storage polysaccharide paramylon in microalga Euglena gracilis Klebs (Euglena, Euglenophyceae) // International Journal on Algae. – 2018. – Vol. 20, Is.2. – P. 153-166.
Mokrosnop V.M., Polishchuk A.V., Zolotareva E.K. Accumulation of α-tocopherol and β-carotene in Euglena gracilis cells under autotrophic and mixotrophic culture conditions // Applied Biochemistry and Microbiology – 2016. – Vol. 52, Is. 2. – P. 216-221.
Mokrosnop V.M. Functions of tocopherols in the cells of plants and other photosynthetic organisms // Ukr. Biochem. J. – 2014.  – Vol. 86, N. 5. – P. 26-36.